biographie
Zakary Beauvois sillonne la Normandie depuis toujours mais c'est en voyageant dans les Caraïbes qu'il commence à photographier, avec une attirance marquée pour les grands espaces.
En 2019, il décide d'arrêter les voyages en avion pour la symbolique de sobriété que représente ce geste. Il rénove un petit voilier et s'installe dans une ferme du Cotentin. Zak s'intéresse à réévaluer l'importance de cultiver des affects avec le monde vivant et cherche d'autres façons de l'habiter. Sur terre ou en mer, il se nourrit de la réalité de la nature qu'il rencontre. Son travail ne s'inspire pas seulement de la vie, il en rend compte, de manière brute et intense.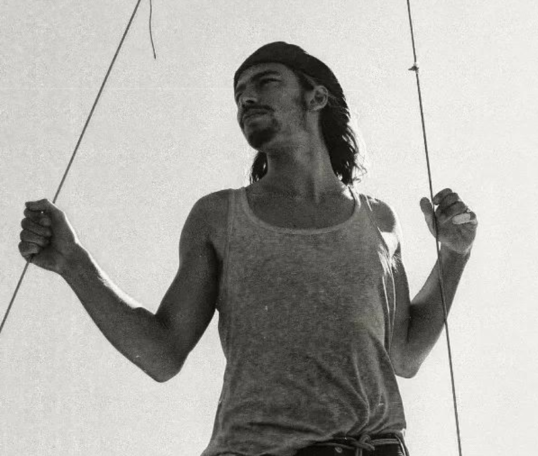 biography
Zakary Beauvois is sailor and an independent photographer born in 1997. He grew up in normandy, brought up near windy landscapes and the omnipresent sea, surrounded by nature's admirable light. Son of a seaman, Zak develops a desire for traveling at an early age. Throughout the miles he has travelled and the years that passed, he discovered the world and cultivated his sensibility. He learnt not to just look at his surroundings, but to see through them. From these experiences came the natural need and
desire for Zak to capture the intensity of the moment, the peculiarities of nature's light. Through his photography Zak narrates stories about large open spaces, the troubling or breathtaking unknown, and replaces Man in the middle of nature's greater whole. 
curriculum vitae
clients
Nikon, Peter Doherty, Fatboy, Northbound Travel, Armistice Shoes, Aloha Orchestra, Petit Biscuit, LaBlue…
exhibitions
« Living for the Thrill » À la Folie, parc de la Villette, Paris – Octobre 2017
« Entre les Antilles et Cuba – N17° 53' / W68° 28' » Cithem Festival, Alençon – Aout 2016
« Malte » Café Ink, Le Havre – juin 2016
« Petites Solitudes Océaniques » La Perrière (61) – Juin / Septembre 2021
« Mère Méditerranéen » exposition colective representée et organisée par The Analaog Club, Paris rue d'Aboukir – Septembre 2021
« Festival Pluies de Juillet » au Tanu (50) – Juillets 2022
« Vues sur Mer » exposition au Musée Regard de Provence Avenue Vaudoyer, Marseille – Septembre 2022 / Février 2023
publications – webographie
« Clichés aux nuances irisées » Adobe Fr, 2018
« Entre feu et glace » Nikon mag, 2018
« Living for the Thrill » Cheese by Konbini, 2017
« Living for the Thrill » Redbull Fr, 2017
« Road-trip à travers les terres sauvages d'Espagne » Les Others, 2016
« Top 10 des instagramers voyage » Nikon, 2016
and Somewhere magazine, Fubiz, Gominimal magazine Imaginary Magnitude, Fisheye magazine…
conférence – radio – visio
La Coloc chez Radio Phénix, Caen – Février 2018
« Tous Photographes ? » Ifs, Février 2018
Live Slow Voyage – Atterissage, Juin 2020